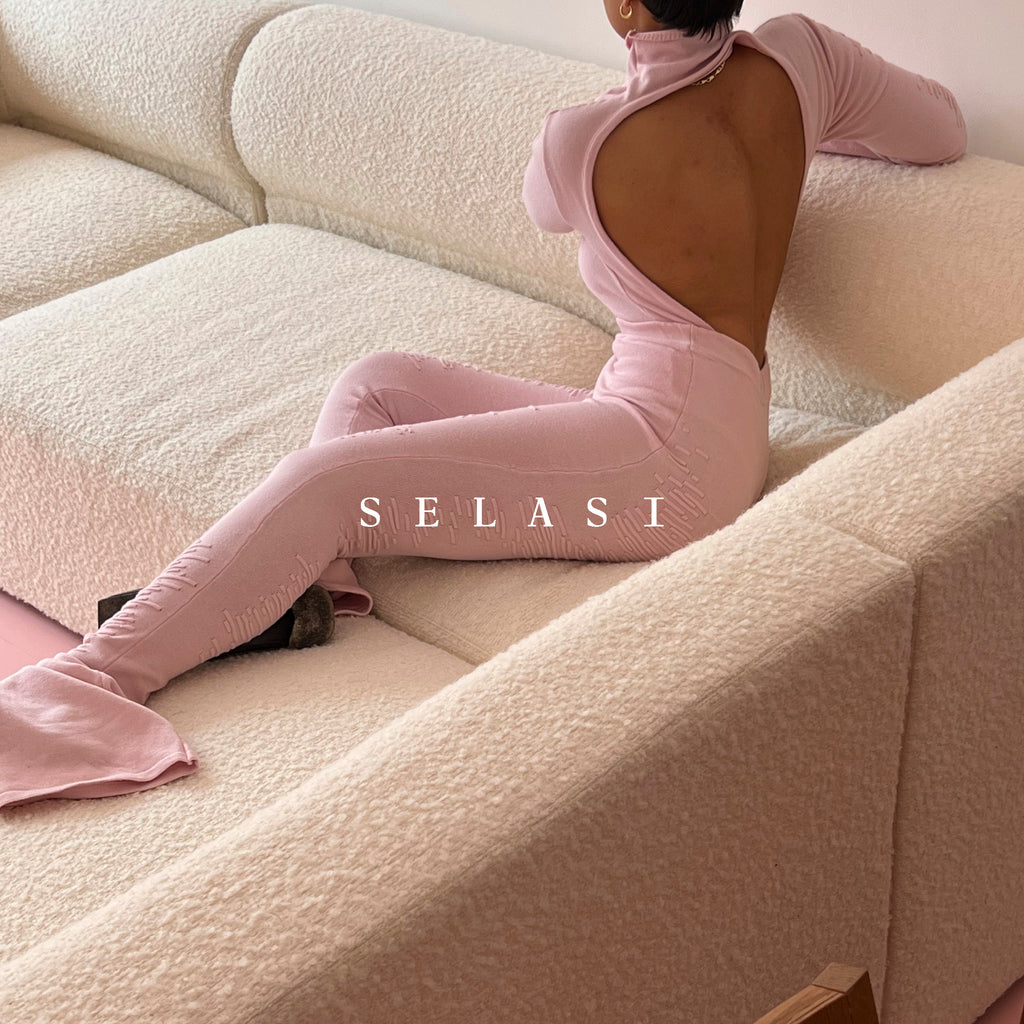 Finally available in two limited edition colours: blossom and cayenne. 
Only four sets available in each colour. 
blossom: backless turtleneck bodysuit and leggings - £650
cayenne: tank and cycling shorts - £500
No Returns, please check measurements before ordering.
50% Viscose, 27% Stretch Polyester, 23% Polyamide Fibre. Dry Clean Only.
Made in Italy. Created in collaboration with KBN Knitwear. 
To order, email info@selasi.co 
Measurements (Inches):
Note: The Muscle Series is very stretchy, all measurements are approximate, taken with garment laid flat. Waist and bust measurements are all the way around. 
Body
Small: Waist 26, Bust 32, Armpit-Armpit 17, Shoulder-Shoulder 16.5, Nape-Crotch 25.5
Medium: Waist 27.5, Bust 34, 
Armpit-Armpit 19.5, 
Shoulder-Shoulder 16.5, 
Nape-Crotch 25.5
Large: 
Waist 28.5, Bust 34.5, 
Armpit-Armpit 19.5, 
Shoulder-Shoulder 17, 
Nape-Crotch 25.5
Leggings
Small: Waist 25, Hips 25.5, Waist-Hem 55
Medium: Waist 27, Hips 27, Waist-Hem 55
Large:
Waist 28.5, Hips 28.5, Waist-Hem 55
Tank
Small: Top-Bottom 16.5, Bust 13
Medium: 
Top-Bottom 16.5, Bust 14
Large: 
Top-Bottom 16.5, Bust 15
Shorts
Small: Waist 23.5, Hips 34.5, Waist-Hem 18.5
Medium: 
Waist 25, Hips 36, Waist-Hem 19
Large: 
Waist 27.5, Hips 38.5, Waist-Hem 19.5